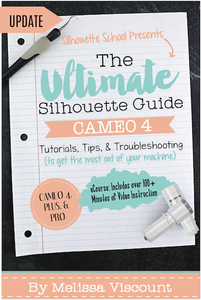 With the release of the Ultimate Silhouette Guide for CAMEO 4, we are offering a free update chapter for those customers who purchased the previous edition of the Ultimate Silhouette Guide Second Edition.
Simply add this product to your cart and checkout. You will receive an email to download the 11 page update in the form of a PDF. 
_____________________________________________________
Now if the free update chapter on CAMEO 4, isn't enough for you and you are considering adding the Ultimate Silhouette Guide for CAMEO 4 to your ebook collection, you're probably wondering if you "need" it and how much difference there is in the two guides.
Some areas of the book will look familiar, especially in areas about the software that have not changed such as the certain design tools and some of the techniques (like layering vinyl).  Hence the reason we offer the free update chapter.
But a lot has changed...so while only you can decide if you need the new guide, I can tell you what's changed: 
All four of the videos have been completely redone and expanded for the current version of Silhouette Studio. There are now nearly 150 minutes of video instruction
All techniques, text tutorials, videos, screen grabs and photos have been updated throughout the guide to references Silhouette CAMEO 4 and the current version of the software
An entirely new section on the Silhouette CAMEO 4 tool carriages, tools, tool adapters, and specialty tools has been added
New sections on how to cut fabric and felt with the Rotary Blade have been added
A new 5 page section on how to design for, set up, and successfully cut thick materials like leather and balsa wood with the 3mm Kraft Blade have been added - including recommended  cut settings
A recommended start to finish workflow has been added
Large updates were made to sections on the machine set up (including the two different types of roll feeders), Library, Cloud, Send panel, and machine list to reflect the current version of the software
Everything Melissa does is amazing!!!!!
These guide books are a lifesaver!!!! They help me immensely!
Detailed, Accurate, Invaluable
The Ultimate Silhouette Guide is a must have for all Silhouette users. This instruction guide is well written, organized and provides essential knowledge for a beginner to a seasoned veteran. The Silhouette machine has so many functions and capabilities to improve projects but trying to figure it all out without The Ultimate Silhouette Guide would require hours of testing and retesting and could be costly on materials. Thank you for eliminating the guess work and providing the knowledge and your years of expertise without you my first machine would still be in the box.
ULTIMATE SILHOUETTE GUIDE SERIES UPDATE REVIEW
I found information in Silhouette Guide Series Update easy to read and understand. The color images and Troubleshooting section were also very helpful. Thank you for making this Guide for the Silhouette Cameo 4 available.
Silhouette guide
I like having a hands on copy to reference. I like that I can quickly look something up without having to scroll on my device or watch a video
Silhouette e-book guide
I printed it on my home computer. I love having written instructions! I have purchased ALL the books!!! Love all she does! Best resource ever.